Inspired by Maaike Leenders' talk on digital nomadism at SENSE's recent Professional Development Days, I went to test the waters with a week's stay in the lovely Croatian city of Split at the beginning of October. Since RegioJet's direct train from Prague was no longer running, I booked plane tickets. Flying in Covid times was a bit more stressful than usual – not because of wearing a mask for the entire journey but because of the extra documents needed (such as my digital Covid pass and passenger locator form). It all went pretty smoothly in the end though,
despite the airline changing my return flight just after I booked it, combining the Saturday and Sunday flights. Luckily, it was easy to change my accommodation booking and that gave me an extra day the second weekend so I'm not complaining.
A couple of years ago, I spent a week in Split with my friends and colleagues at a conference at the university there (METM19) and, earlier this year, I went back for a holiday with a friend and my sister – so I was familiar with the area. I rented an apartment with a good internet connection located close to Žnjan beach and Tommy's supermarket. Some of my MET friends and colleagues know this area well, too. When Elizabeth Garrison mentioned she had spent five weeks working remotely in the very same building a few years ago, I knew I was in good company.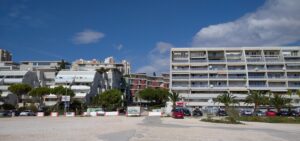 I checked the weather forecast in advance and planned to work more when it was raining and to hit the beach and sea when the sun came out. I ended up doing some admin on the very first day although it was a sunny Sunday but an invoice I wrote then was settled on Monday so that literally paid off. Plus, I still had plenty of beach time afterwards.
It took me a while to set up my office on the Monday. Since I like to make use of a second screen when I'm editing, I took along my tablet for this purpose. After trying out a couple of different apps, I got it up and running using SuperDisplay. The screen is smaller than my usual second monitor in my office in Prague so that took a bit of getting used to but it did the job. I also missed my ergonomic keyboard with QWERTY layout but my spare German keyboard is still easier to work with than my small laptop one.
I didn't get as much work done during the week as I would have at home but the plan was to work part-time and enjoy my beautiful surroundings, too. As well as getting in an almost daily swim, I also made time for early evening coffee breaks by the sea. Maybe that's a habit I could adopt at home in Prague. There may not be any sea nearby but I'm only ten minutes away from the pool at my local gym and there are plenty of nice cafés right on my doorstep.
Besides going out for coffee, it was great to have dinner during the week with my friend and colleague Domagoja who works at the university in Split. And since I was travelling alone, it was important for me to stay connected to friends and family while I was away. I had phone and video calls with a couple of good friends and with my brother as well as participating in two social events online – my friend Jamie Marshall's fabulous Sunday night Facebook live gig and a chat with the lovely ladies in the Psychologies Subscribers' Life Leap Club on Tuesday evening. I also attended a SENSE UniSIG Zoom presentation on the ethics of 'proofreading' student writing at UK universities by Nigel Harwood. This was thought provoking and worth dragging myself away from the beach for on Friday afternoon.
Throughout my stay, I kept my sister and my friend I went to Split with earlier in the year posted about my whereabouts – and my Facebook friends! I felt very safe walking around in Split even at night but it's best to be vigilant. And I joined a local Facebook group just in case I needed any assistance or information.
On the second weekend I went on a boat trip and even though the sea was a bit choppy and cold – no-one went swimming this time, not even me! – it was still a wonderful excursion and we got to enjoy this amazing sunset. This won't be my last sunset in Split. I'll be back. I'm already thinking about a longer stay next year and September/October is a good time of year to be there. It's not too crowded but still generally good weather. If any of my MET or other friends or colleagues would like to join me, let me know. In the meantime, I look forward to seeing many of you at METM online tomorrow and Friday. We may not be in Split or sunny Spain this time but we can still learn a lot and enjoy online networking into the bargain.